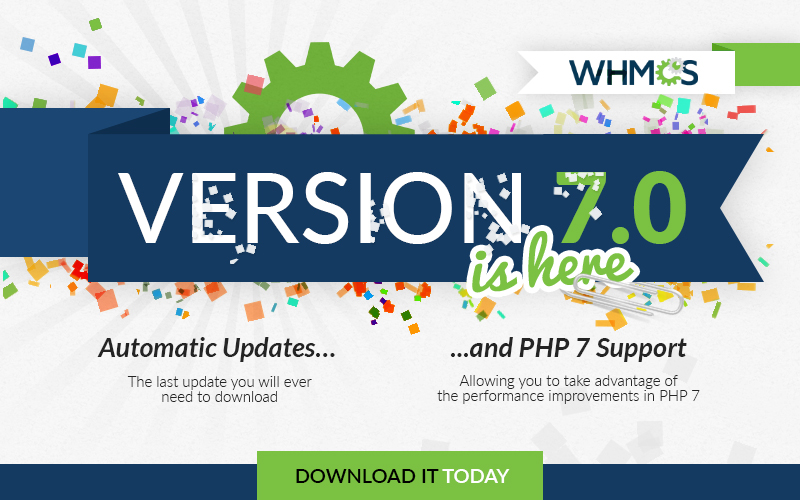 Introducing WHMCS Version 7.0 - the last update you'll ever need to download!
Featuring our number one
most highly requested feature
of all time, WHMCS 7.0 debuts the much anticipated Automatic Updater that makes it easy to update and ensure you're getting the best possible experience from the WHMCS product at all times.
WHMCS 7.0 also comes with full support for PHP 7 so now you can take advantage of the significant performance enhancements available in PHP 7 only with WHMCS 7.0!
It's here and it's available to download now, so what are you waiting for?
Upgrade today
.
What else is new
Automatic Updates
- Now updates are just a click away. Learn more in our
Q&A with Nate Custer from our Development Team
.
Spotlight TLDs
- Highlight your best selling TLDs and extensions to maximise conversions. Also includes sale groups that allow you to highlight extensions that are New, Hot and on Sale.
Learn more in our Feature Spotlight...
PHP 7 Support
- PHP 7 has been hailed as the most important update to PHP since the release of PHP 5 in 2004 due to the significant performance improvements and dramatically reduced memory consumption it offers.
Learn more about PHP 7
And
much, much more...
Take a look at the
release notes
and
changelog
for full details.
Thanks for reading! If you have any questions, please
get in touch
.