We are pleased to announce the immediate availability of WHMCS 6.3 Release Candidate 1. If you're a developer, user of custom add-ons or are simply interested in trying out the latest in new functionality, now's your chance to get involved.


As always, please remember pre-production releases are not intended for production use and should only be used for testing.
Feature Spotlight: Support Ticket Enhancements
Last week, we previewed the
Easy Translation
feature in WHMCS 6.3. Today, we're turning the spotlight on the Ticket System.
The Support Ticket System is one of the most widely used features of the WHMCS product and in WHMCS 6.3, there's a lot of new and improved functionality to help optimise and improve support workflows.
Markdown Support
Support tickets now support Markdown, a text based markup language allowing for things such as bold, italics, lists, code blocks and more.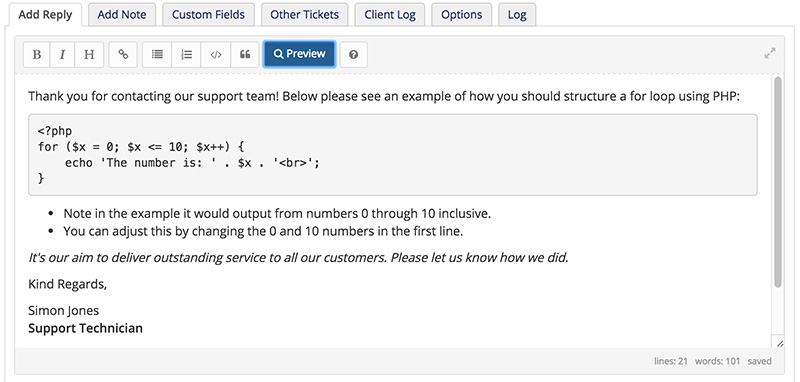 Available in both the client and admin areas for tickets and notes, a new user friendly editor makes it easy to apply formatting and create dynamic, eye catching messages using a variety of text design features. Common keyboard shortcuts are also supported for a more natural editor experience.
Auto-saving
Leveraging HTML Local Storage, support ticket replies are now saved as you type meaning an end to lost content if your connection drops. This means you can start typing a reply, navigate away from the page, and when you return, your content will still be there ready for you to pick up where you left off.
Reply & Assign
Now ticket options such as department, status, assignment and priority can all be changed at the same time as posting a reply or note to a ticket. A feature that optimises your workflow and can save you precious seconds and clicks.
Watchers/Notifications
With WHMCS 6.3, staff members can elect to watch any ticket they view, after which they are notified any time a change or reply is made. The notifications also use a new and improved email notification template designed to make it easier and clearer to see what has changed.
Wait, there's more..?
That's right. That's not all, there's also more powerful ticket list search and filter options, with the ability to filter for multiple criteria at the same time, in-line ticket notes that allow staff to leave chronological notes in tickets, in-line preview of image attachments and persistence for merged tickets allowing you to locate tickets using their original ticket numbers and subjects, even after they have been merged.
Thanks for reading!