On the launch of the new integration between WHMCS and OnApp, OnApp's Chief Visionary Officer Carlos Rego tells the story behind the integration and just what it means for the hosting market.

When we decided to build OnApp, almost 5 years ago, one of the decisions we made was to focus on the management and metering of the infrastructure layer, and leave the accounting to existing billing packages.

Why was that? Pretty simple, really: OnApp was designed for the hosting market, and most of our clients already had billing software they used for their existing services.

We didn't want to force them, or their customers, to use yet another system just for cloud: it would complicate their accounting and increase their overheads. But more than that, we wanted to deliver the promise of a single pane of glass for all services. By tying OnApp into their existing system, a hosting provider can give customers access to everything they offer, all in one place.

Why WHMCS?We knew from the beginning that it was paramount for us to have a tight integration with WHMCS - not just because we're big fans of the software and the company behind it, but because WHMCS is the largest provider of recurring billing software for the hosting industry.

So, towards the end of 2010, we released our first two integration modules for the WHMCS platform. The main module allowed providers to sell and manage VMs from within WHMCS itself, while a supporting User Module allowed WHMCS to create and bill clients with direct access to OnApp.

The modules were very successful, but they were not perfect. The first versions were created based on our own internal requirements, without the help of longtime WHMCS users: we just needed to get the first version of the integration into the marketplace so customers could start using WHMCS and OnApp together.

As a result the main module in particular lacked some features, and while we improved the integration over the next couple of years the module was still not all it could and should be. That isn't the true OnApp way, so in 2012 we made the decision to scrap the main module and start over, with the help and feedback of the WHMCS community and WHMCS itself.

The new OnApp-WHMCS integrationThe results of this effort are what we announced today, with the launch of a brand new OnApp-WHMCS integration based on a stack of 5 modules: VPS, Cloud, CDN, DNS and Reseller.

The VPS module is a replacement for the previous main module. It allows providers to create either fixed-resource VPS packages, or dynamic VPS services where clients customize their VM using sliders or drop-down options. All management of the VM is handled inside WHMCS with no need for clients to log to OnApp directly. Your VPS packages use the WHMCS billing features and cycles for pricing, and invoicing clients.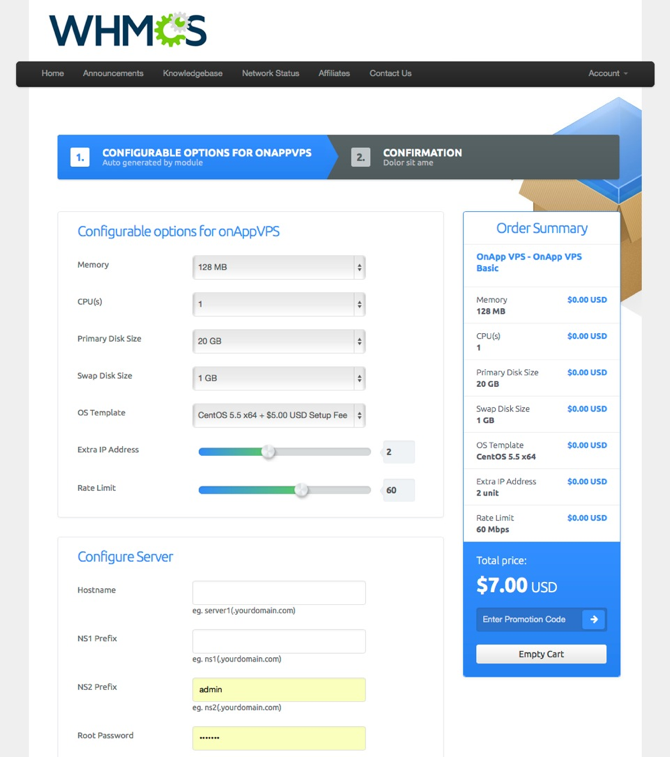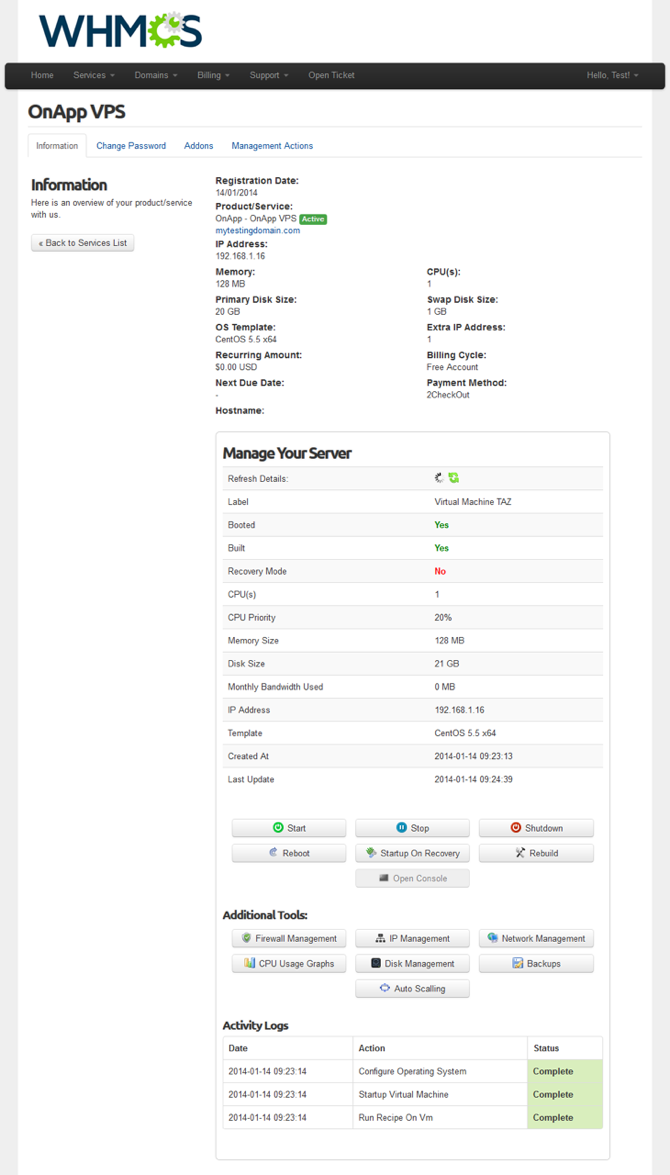 The Cloud module lets you create a Virtual Datacenter type service in WHMCS. Instead of selling packages a provider can sell CPU, RAM and storage resources for end customers to use as they wish for their VMs. They can move resources from one VM to another if they choose. We also created a billing plugin to allow for hourly billing of these resources by WHMCS. It's easy for a provider to enable hourly billing metrics and invoice the client, on the billing cycle of choice.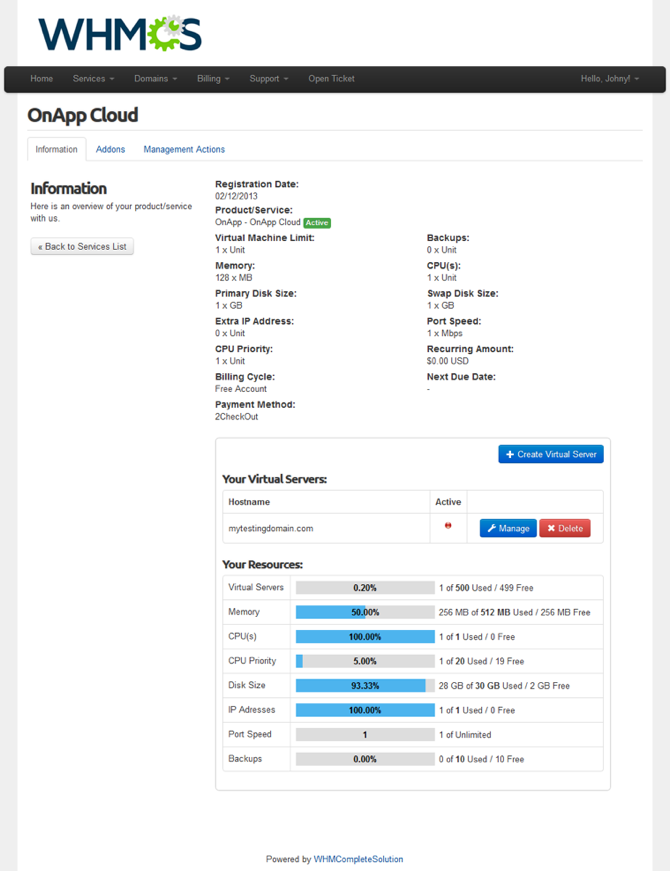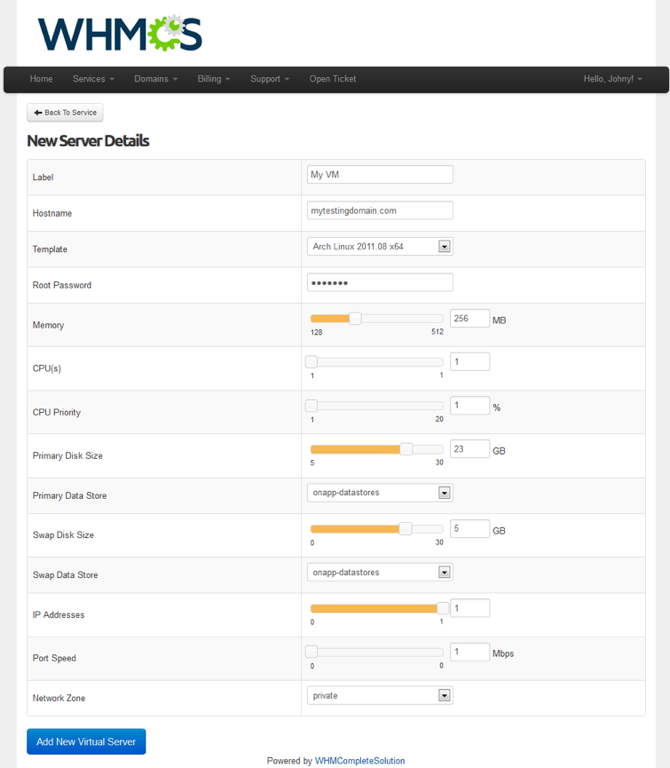 The CDN module ties into our federated CDN platform, and allows any provider to use WHMCS to offer CDN services - a very valuable add-on to your cloud or VPS. You can set prices for traffic from your own CDN locations and locations on the OnApp federation, and allow your clients to tailor their CDN service to fit their needs. What do we mean by this? Well, instead of a one-size-fits-all methodology, we now allow WHMCS to manage different prices for groups of CDN PoPs, so that - for example – content delivered from USA locations can be at a different price point that those in Asia. That way, it's up to the end customer to decide which locations they want and what price they're willing to pay.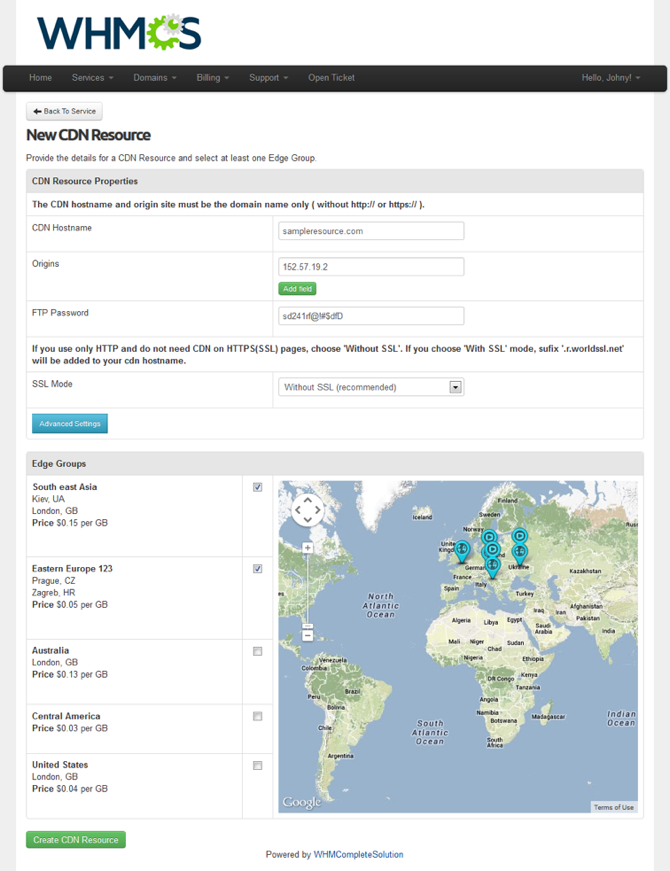 The DNS module ties into our Anycast DNS system to create another value-added upsell for hosting providers. This is totally white-labelled and based on a global system that would otherwise cost a few million to deploy. It's now accessible to any provider, so you can manage your customers' DNS (and DNS for your own sites) with a few clicks.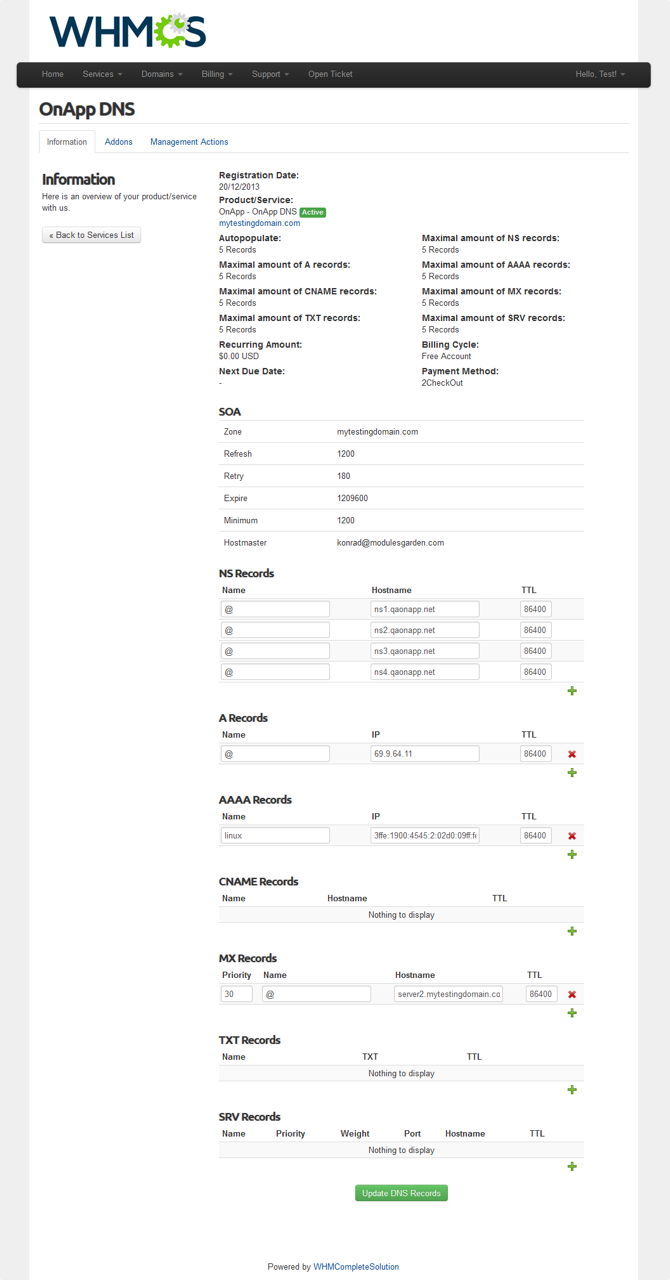 The LoadBalancer Module allows clients to quickly deploy a load balancer appliance and tie multiple servers as targets for the traffic, does not get any easier than this to create a redundant or horizontally scalable system.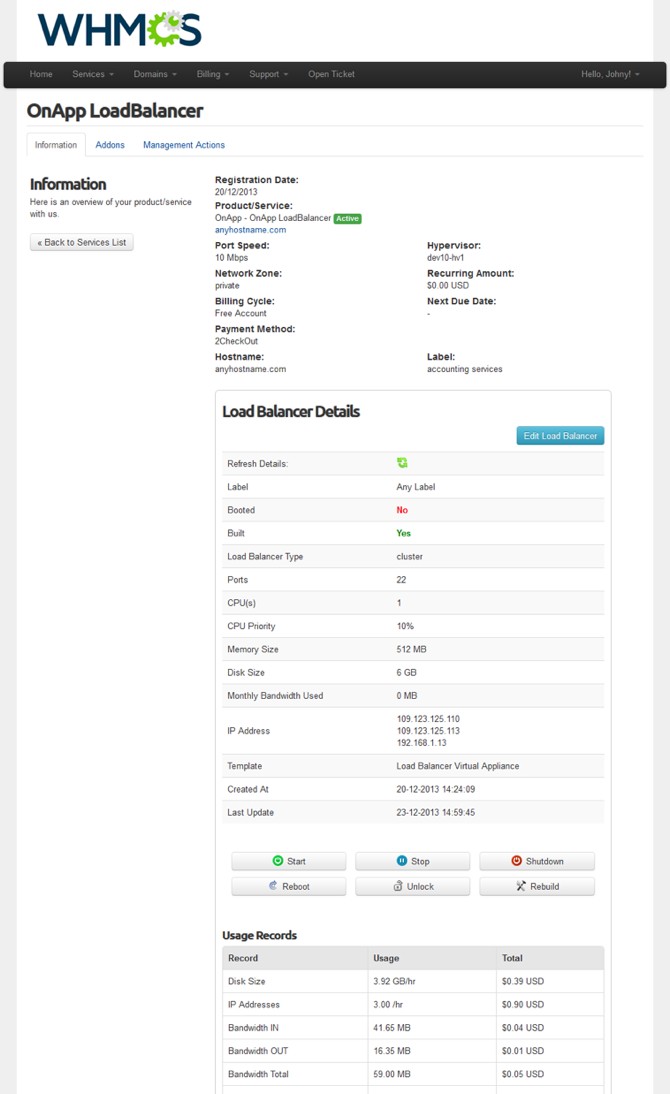 The reseller module is last, but certainly not least! As it gets easier to access infrastructure from remote locations - such as the locations on the OnApp federation - it becomes easier for hosts to offer global coverage to their clients without maintaining their own global network of datacenters, or even if they have no infrastructure of their own. This new breed of hoster, which we call Virtual Service Providers, are hosts who focus on serving and supporting niche markets and assembling the perfect cloud package for their customers using virtualized infrastructure from any location available.
It's this market that the new reseller module is designed to support. It allows anyone with a regular OnApp account to become a cloud provider: effectively enabling an OnApp-powered host to sub-let part of their cloud to another host - the Virtual Service Provider, or VSP. It's all handled entirely through the WHMCS user management and billing workflow.
Imagine the possibilities: you can buy accounts from multiple providers and offer a global cloud footprint for your customers today, or tie into our compute federation coming later this year and have a reach larger than AWS itself ... really cool stuff!
Get cracking!
We're really excited to see what the OnApp and WHMCS communities can do with the new integration. These modules were developed through a close collaboration between the OnApp and WHMCS dev teams and more than 50 WHMCS users, who took part in a closed development beta that lasted more than 4 months.
Thanks to all of this hard work and dedicated, and some incredible feedback and bug tracking from the community, we OnApp now have a range of WHMCS modules we can truly be proud of.
I hope that's whetted your appetite for some OnApp-WHMCS action ... if you'd like to know more, or you'd like a demo, head over to
https://onapp.com/whmcs
or drop me a line.
Carlos Rego, CVO, OnApp
@nullmind | [email]carlos@onapp.com[/email]