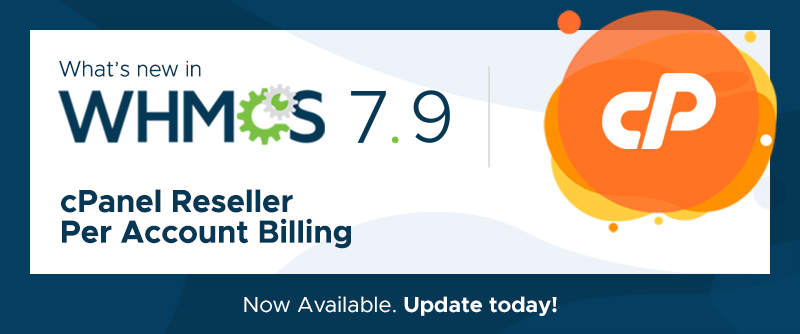 With the new Usage Billing functionality available in WHMCS 7.9, it is now possible to setup pricing for cPanel Reseller Hosting where the price a reseller pays is determined by the number of cPanel Accounts under its control.


What does it allow you to do?
WHMCS 7.9 allows you to offer cPanel Reseller Hosting with pricing that is determined by the number of cPanel accounts created by a reseller.
Billing per account has become a much requested feature since the announcement of cPanel's move to Account Based Pricing last year.
Now the price you pay for your cPanel license for a server is directly proportional to the number of accounts hosted on it, and this new functionality allows you to pass on the cost for accounts created by resellers directly to the resellers who are creating them.
How does it work?
Products that have Sub-Account usage billing enabled will show the per account pricing on the order form during signup to the end user.
For billing purposes, each time a renewal invoice is generated, WHMCS will create an additional line item showing the number of Sub-Accounts present at the time the invoice was generated and the amount due for them based on the Per Account pricing you set.
How do I set it up?
It's easy to get started with Per Account billing. You can enable Per Account billing for any existing or new reseller product in the same way. Simply select the Module Settings tab within the product configuration screen and slide the toggle to On next to the "Sub-Accounts" metric. Note that this option will only appear for products assigned to a module that supports it - at the time of writing it is supported for both the cPanel and DirectAdmin modules.
Click the Configure Pricing link to set pricing.
You can define a price per account, as well as a number for Quantity Included that defines the number of accounts that are included in the base fee for the product. The number you enter here will not have the Per Account pricing applied to them.
There are a range of pricing schemes to choose from. Per unit is the simplest method, allowing you to define a price per unit that is billed for all accounts, irrespective of the number used. Total Volume and Graduated allow you to setup pricing tiers that can provide lower pricing for those with higher volumes of usage. More information on the different pricing schemes and how they work is available in our
documentation here
.
This coupled with the
cPanel License Automation
module we launched for cPanel Manage2 Partners enables businesses running WHMCS to fully automate the sales and billing process for cPanel for both license resellers and web hosting partners.
Questions?
There is further information available in our
Usage Billing Documentation
and
Billing Resellers Per Domain Tutorial
.
If you have any questions about this or the other new functionality in WHMCS 7.9, we invite you to ask them in the comments below.