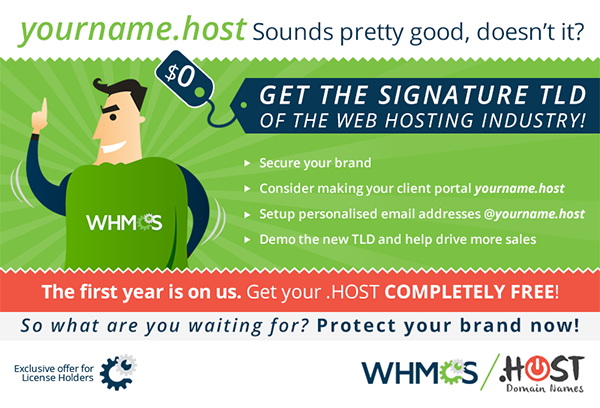 We are excited to announce an incredible new offer exclusively for WHMCS license holders.
A .HOST domain name completely FREE for the first year!
With this fantastic offer brought to you in conjunction with .HOST, there's no reason to not add a .HOST domain to your domain name portfolio and secure your brand today. You've already got the best in web hosting billing automation, now get the best domain name for your business. Register your .HOST now before somebody else beats you to it!
Why .HOST?
.HOST is the signature TLD of the hosting industry, made exclusively for web hosts. A .HOST domain empowers businesses by improving search rankings, shortening your domain name, and simply defining what you do to the market. Take control of your brand with a .HOST domain and get a step ahead of the competition by being one of the first to adopt.
Not only limited to your hosting business .HOST domains are used by Datacenters, Cloud providers, XaaS providers and community forums. Get creative and utilize this special opportunity to strengthen your brand.
This is part of our commitment to bringing our customers the latest and best in web hosting. Thank you for being a WHMCS customer!