WHMCS November 2011 Blog Posts

We've done it! WHMCS Version 5 is all packaged up and ready to go...

We've reached every goal we set ourselves for Version 5, tested it thoroughly for the past 6 weeks (special thanks go to every one of our beta testing team who have helped with finding issues and providing their feedback), written clear and detailed documentation for all of the new features, improved our existing documentation where possible; we've also found time to rebrand and update the look of our own website to better showcase what we do and what we're all about, and here we are, finally ready to reveal what we've been working on to the world at large...

We're really excited about this release, more so than any release we've ever done before, and we know a lot of you are too! So without further delay, I want to introduce you to our WHMCS V5 Release Announcement PDF, which showcases everything we've been working so hard on for the past 5 months. As you'll see, there's quite a lot!

So now you know what's in it, you can't wait to upgrade right?!? :)
Well ok then...
The new V5 upgrade is available for download from our client area as of the time of this post. And it follows the same simple and straightforward upgrade process as every upgrade that has come before. For help upgrading, please refer to the
How to Upgrade
link below.
As per normal, our
Professional Upgrade Service
, where we upgrade your WHMCS installation for you, is also available, and we have more staff on hand than ever to be able to process upgrades as quickly as possible for those of you who just can't wait to try out the new version! The fee has been increased slightly for this update, from $19.95 to $24.95, but this still offers great value for money.
.........................
So all that leaves is for me to thank all of you who have chosen WHMCS, and continue to use it daily, and who send in your feedback and requests to us. Your loyalty, support, feedback and the work you do in referring WHMCS to your friends and colleagues, is what allows us to develop upgrades like this, and developing, innovating and improving is what we like doing most.
A couple of links that you might need...
V5 Discussion Thread:
http://forum.whmcs.com/showthread.php?t=43260
V5 What's New Overview:
http://www.whmcs.com/whats-new/
V5 Release Notes:
http://docs.whmcs.com/Version_5.0_Release_Notes
How to Upgrade:
http://docs.whmcs.com/Upgrading
Download:
http://www.whmcs.com/download

Posted by Matt on Thursday, November 24th, 2011

It's very exciting times here at WHMCS. We've got a lot going on, and we're busy tweaking and finalising Version 5, updating and adding to our documentation for the new release, and getting everything ready for what is set to be our biggest and best new launch to date.

The beta testing has been going very well, with lots of great ideas and comments coming in from our testing group. And we're still taking on board and acting on suggestions even now in the final stages of preparations.

Thanks also for all the positive feedback we've had relating to the previews & details revealed in recent blog posts. It's really good to know that you're liking what you've seen so far, and so later in this post we've got a bit more to show you...


New Logo

First of all I would like to introduce our new logo. This has been designed to reflect a fresher and more up to date WHMCS, to complement our brand new Version 5.0 release later this month.


New Website
In conjunction with the new logo, we're refreshing our own website. It's been a couple of years since our last major redesign, and so to complete the rebranding process, and to better promote the benefits WHMCS can bring to users, we've reworked the entire site to give it an updated and more modern look. The new site will be going live within the next week.
Goodbye Free Trial... Hello Money Back Guarantee
Within the next week we will also be discontinuing the free trial offer. Instead, this is being replaced with a 30 Day Money Back Guarantee on all new license purchases, meaning new clients can still try our software risk free, with the benefit of having access to support, and in fact now for even longer, since you will have up to 30 days to decide if WHMCS is right for you.
V5 Admin Area Preview
In response to many enquiries we've received from users who are keen to see more of what's coming up in our new Version 5 release, here's a short video preview of some of the key admin side functionality we've been working on. This video demonstrates the following: Our Refreshed Admin Look, The Admin Homepage Widgets, New Multi-level Dropdown Menus, Ticket Attachment Thumbnails, Context Sensitive Help Shortcuts, Mass Product/Service Update Additions, Expanded PayPal Transaction Lookup, Product Bundles, Improved Admin Ticket Opening, The Automated Email Marketer & a Staff Noticeboard Addon.
[youtube]SQKQ7yOR0mw[/youtube]
Further V5 Client Area Previews
Recently we released some previews of the new client area styling that we'll be shipping as standard with WHMCS Version 5.0. 2 Weeks on and we have a few more previews to show you! The 6 screenshots below showcase a selection of a few more pages of the client area, including a new combined Server Status & Network Issues page named "Network Status", and demonstrate the flexibility of the new design with the default standalone V5 portal look having been applied through pure CSS. This new design will also feature a CSS Generator Wizard available through our website, allowing you to choose between the full width (shown previously), fixed width, or portal styles, and customise colors and styling without even needing to touch any code.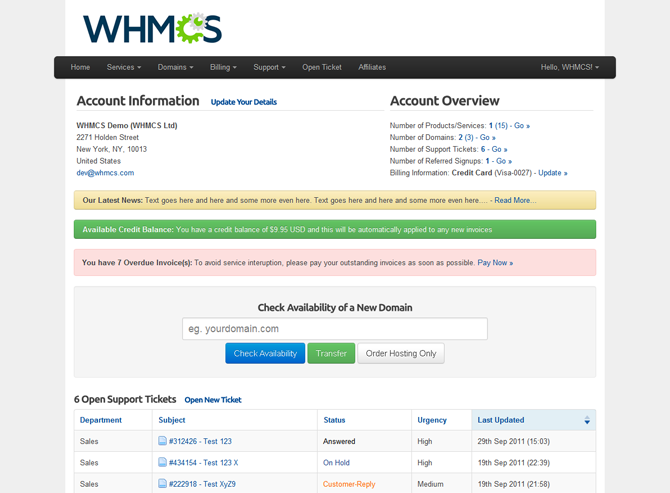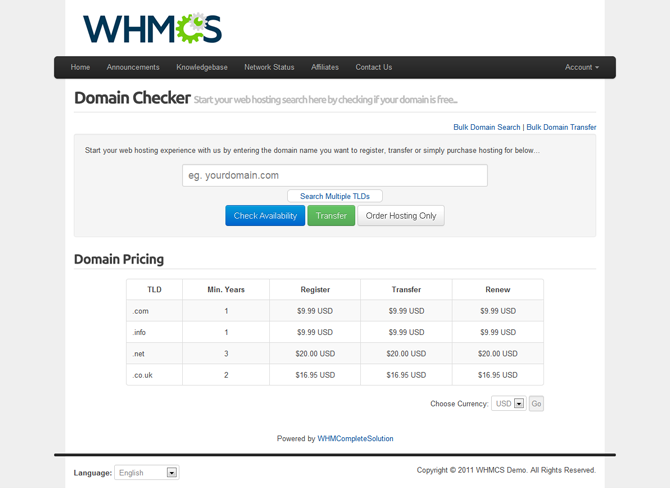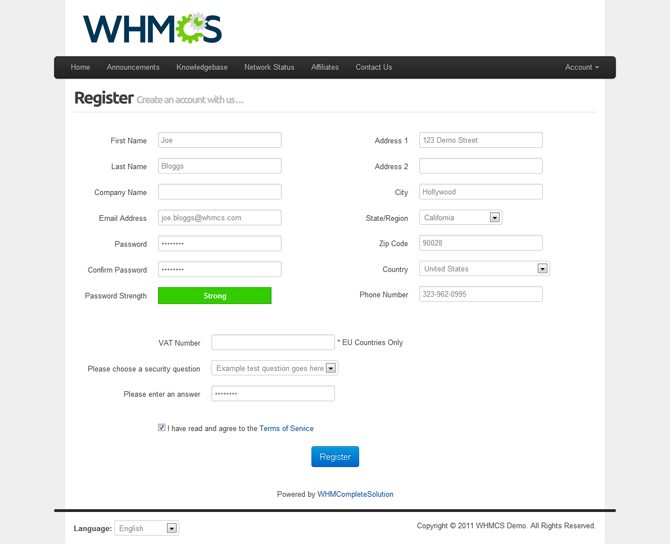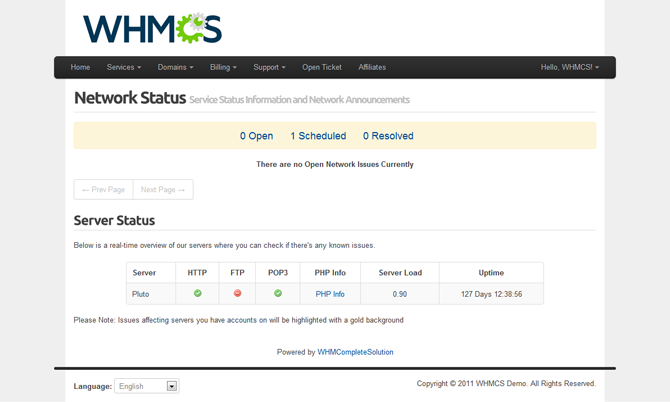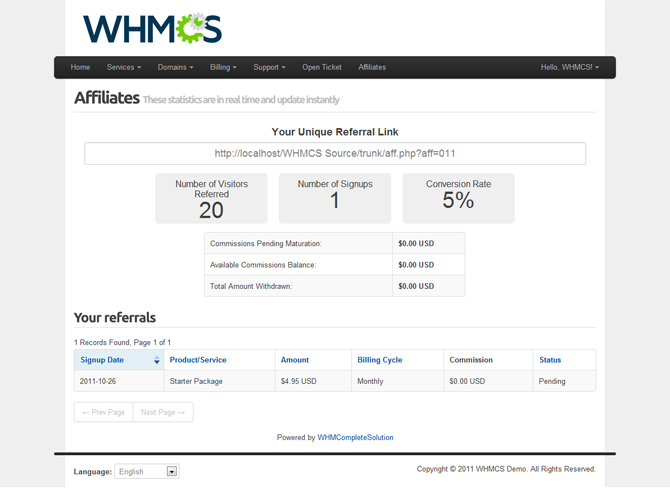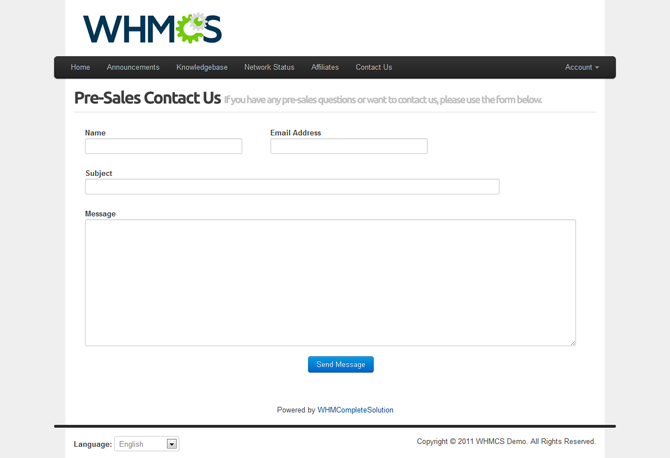 Thanks for reading, and our next blog post will be the launch of Version 5.0 - so not long to wait now :)

Posted by Matt on Friday, November 4th, 2011