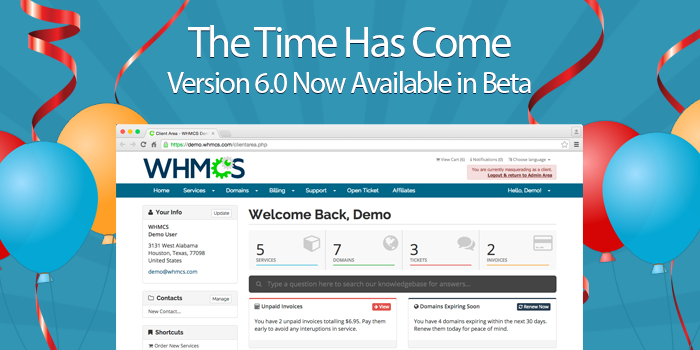 With a lot of excitement, we are very pleased to announce the public beta release of Version 6.0.
Version 6.0 is a major new update with a lot of new features and functionality, as well as many under the hood improvements. If you missed any of the details, we've got you covered with our
dedicated Version 6.0 Microsite
Beta testers play an invaluable role in our development process, and we rely on their work to ensure we release the best possible product. We encourage as many people as possible to take part in the beta process. Signup today to be one of the first to get your hands on Version 6.0 and help shape the finished product. To learn more about the beta process, please visit
https://vsix.whmcs.com/learnmore
If you would like to get involved, and help make Version 6.0 great, simply visit
https://vsix.whmcs.com/
and enter your details. We'll then email you immediately with details of how to get the beta and all the important information you need to know.
We've also setup a dedicated forum for discussions relating to Version 6.0 which can be found at:
https://forum.whmcs.com/forumdisplay.php?98-WHMCS-Version-6-0-Beta-Release
This will allow you to talk directly with other WHMCS users who are taking part in the beta process as well as members of staff and collaborate together to make this release a great success.
If you have any questions, please feel free to let us know. If you decide to take part in the beta, thank you, and we hope you enjoy it! :)