We've all been there. You have this great idea for a new website, you think of the perfect name, but when you go to register it... it's already taken! As hard as you try to find an alternative, nothing else seems quite as good.
That's where Domain Namespinning comes in.
With the new eNom Namespinner feature in WHMCS 6.0, when a customer visits your website to look for a domain, they can simply enter their desired keywords, and the Namespinner will provide intelligent suggestions for both the domain SLD and TLD extension.
What's even more exciting is if they have a specific domain and extension in mind, and that chosen domain name is taken, the customer will be presented with relevant, meaningful alternative domain suggestions. In-fact, even if it's available, the suggestions still appear - why sell one domain when you could sell two, three or even more...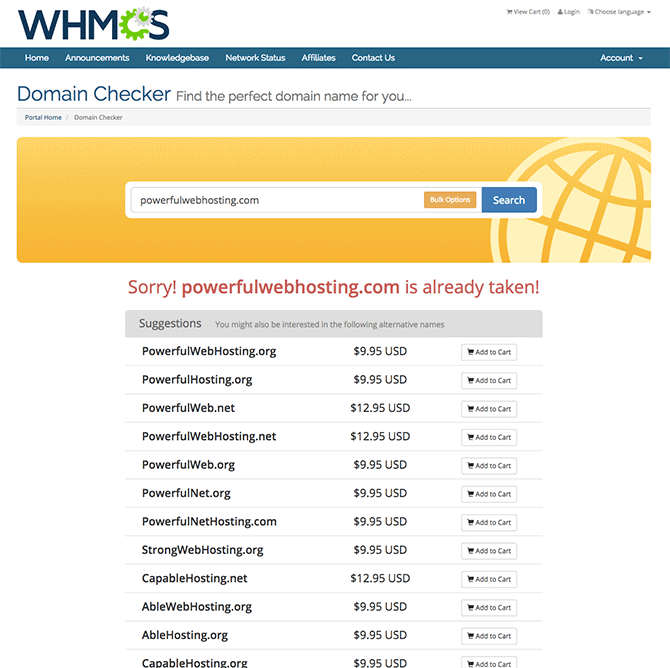 What was once a lost customer due to a dead-end domain unavailable message, is now still a potential sale.
All the big guys do it, and now you can too.
The Namespinner also makes it easier than ever to promote and sell New TLDs too, as any of the TLDs you offer for registration have the potential to show up in suggestions.
Tip: Offering new TLDs increases the chances of the customers SLD keyword choice being available.
One big question we know many of you will be wondering is does this mean I can only use the Namespinner for domains I register with eNom? And no, the answer is the Namespinner can be used for all domain searches performed in your WHMCS installation, regardless of the registrar you ultimately use to register them. All you need to get started is an eNom account which you can register for
here
.
Get ready to start selling more domains!