In this edition of WHMCS Insights I'd like to take a moment to talk about The Email Marketer. This oft-overlooked feature, located under the Utilities menu, was introduced in version 5.0 allowing you to schedule automated emails to be sent out to your clients when certain events and/or criteria are met. This is great for getting feedback from customers, checking new users are finding their feet, or upselling other services.

Upselling is one of the more advanced options available with this tool. Say a client has ordered a certain product, you may wish to email them a week after ordering with information about another related product in which they may be interested. For example a user has ordered hosting may be looking for Website Design services in the near future.

To achieve this, first you must create the email that will be sent to the customer. So get your salesman hat on and create a custom email template under Setup > Email Template.

Next, create a new email marketer rule under Utilities > Email Marketer and select 'Product/Service Related'. From the options that appear, select the hosting product the client should hold and select the status Active (this way users only active clients get the email). And finally, in the 'Number of Days' field, enter how many days after ordering the service the email should be sent.

Now for the clever bit; from the "Does Not Have" menu select the website design product. This ensures that were a client to have already ordered hosting and website design then they won't be bothered by your upselling emails.

Save the rule and that's all there is to it. WHMCS will send this email to clients who meet these criteria when the automation cron job runs.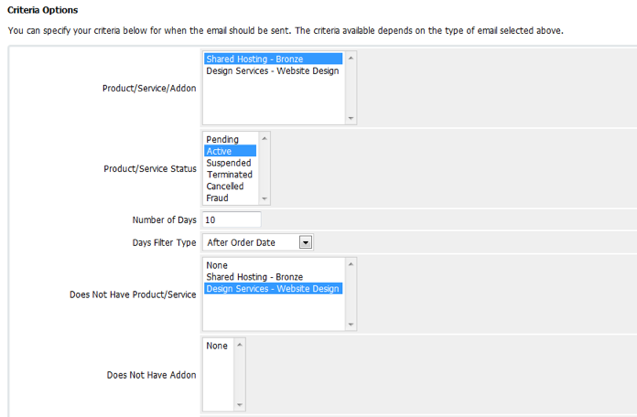 This new video tutorial covers the above process step-by-step with commentary and goes one step further by showing another possible use for the Email Marketer Tool; sending an email on the 1 year anniversary of a client's signup: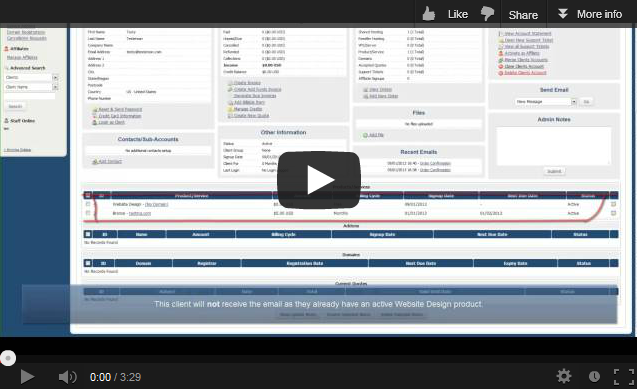 I'm always impressed by the imaginative ways you adapt this feature for purposes we never imagined. For example I've seen it used for sending expiry reminders for fixed term products such as SSL certificates, free trial expiry notices and much more. If you've found a novel use for the Email Marketer I'd love to hear about it the comments.