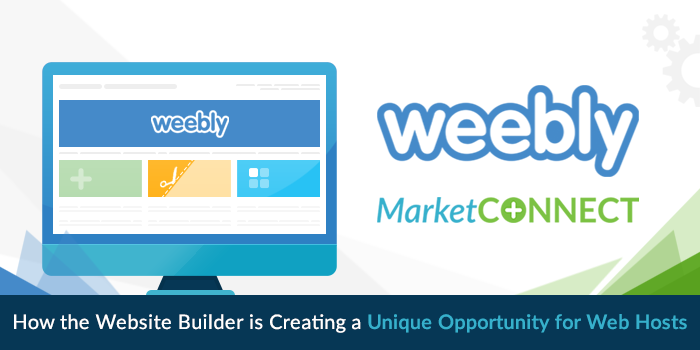 Gain a competitive edge over your competition by adding the Weebly Website Builder to your product offering today.
Previously only accessible to larger web hosting companies, now you too can offer a website builder that makes it easier for your customers to get online faster and create a successful website, increasing the chances they'll stay with you for longer.
Weebly is one of the biggest names in online website building, with a powerful online building platform that lets your users create a professional site, blog or online store in just a few minutes. And once the site is ready, it will be published instantly and automatically to your web hosting.
In recent months, numerous internet technology companies have been finding an increasing amount of success by adding a website builder to their offerings. With reports showing as many as 50% of small businesses still do not have a website, adding a website builder to your product lineup gives you a way to convert this large offline market into paying customers.
Features of Weebly
[LIST]
A powerful drag and drop website builder - no technical skills required
A huge variety of mobile-friendly visually stunning themes for users to choose from
Powerful E-Commerce features including inventory management, order tracking, shipping, taxes
Blogging tools with numerous templates, category support, social features and more
Advanced site features including Galleries, Contact Forms, Embedded Video and more...
Built-in on-site search engine optimisation best practices[/LIST]



What's New in WHMCS 7.2


The new Weebly Website Builder Integration available in WHMCS 7.2 gives you:

[LIST]


[B]Existing Customer Promotions[/B] - WHMCS 7.2 makes it easy for any shared hosting customer to add Weebly to their current hosting package with built-in promotions that you can turn on within the client area in just a few clicks.
[B]Shopping Cart Promotions and Upsells[/B] - The shopping cart enables you to offer Weebly alongside any hosting purchase, both during initial configuration and again later in the process if the user doesn't select it. These strategies are proven to increase your conversion rate and average order value per customer.
[B]Ready Made Landing Page[/B] - A pre-made landing page gives you everything you need to start promoting Weebly to your customers and advertise the benefits of it.
[B]Fully Automated Provisioning[/B] - Provisioning is fully automated thanks to WHMCS MarketConnect so your customers can signup and begin creating their new website instantly.
[B]Automated Website Publishing[/B] - Once the customer has finished building their site, they hit the publish button and the site is uploaded to your web hosting server.[/LIST]

Weebly allows you to deliver more value to your customers, enabling them to get online faster, easier and create a successful website, making it more likely they'll stay with you for longer.




[I]Exclusive Introductory Pricing for Early Enrollment in WHMCS MarketConnect[/I]



Version 7.2 now available in BETA, upgrade today and you can add a powerful Website Builder your product line-up in minutes with our one-click setup. It's that easy.



Thanks for reading!