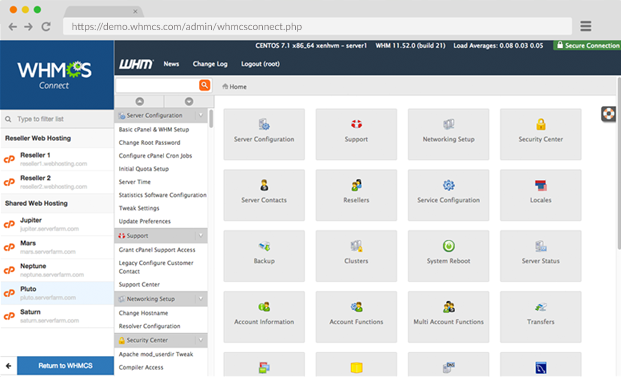 The development team here at WHMCS HQ has been locked away for the past 2 months, hard at work on WHMCS 6.2. That's right WHMCS 6.2 is almost here! Today we're providing the first in a series of Feature Spotlights on what's new and what you have to look forward to.
What is WHMCS Connect?
Perhaps one of the most ground breaking features to debut in WHMCS 6.0 was WHMCS Connect. WHMCS Connect? With all the other new features and functionality we packed into WHMCS 6.0, we wouldn't blame you if you missed it. Read on to find out all you need to know.
WHMCS Connect
is the new way to administer and manage your cPanel Web Servers. From a single centralized interface you can now access the WHM Control Panel for all your servers and without ever having to enter a username or password thanks to the power of Single Sign-On.
Faster and more secure
Centralized storage of API authentication details
Permissions for group based access control
The days of sharing and struggling to keep passwords in sync are over
What's New in 6.2?
We were overwhelmed with the positive feedback we received regarding WHMCS Connect when it first launched a little over 5 months ago. We heard you loud and clear. You wanted to be able to find servers more quickly. So we're pleased to announce real-time search is coming along with a new and improved interface. Now finding and logging into the server you want is lightning fast.
What's next for WHMCS Connect?
While today only the cPanel module integrates the necessary API's to leverage this functionality, the API's for WHMCS Connect are open and available for any module developers to integrate into their modules and we expect to see many adding support for WHMCS Connect soon.
This feature, along with many more are coming up in WHMCS 6.2 which is just weeks away. There is so much more to share, be sure to stay tuned for more updates.
Need help with WHMCS Connect, you can always contact our
support team
who is standing by to assist you.
P.S. We're now on
Instagram
… follow us to see all the latest happenings from our offices and travels.