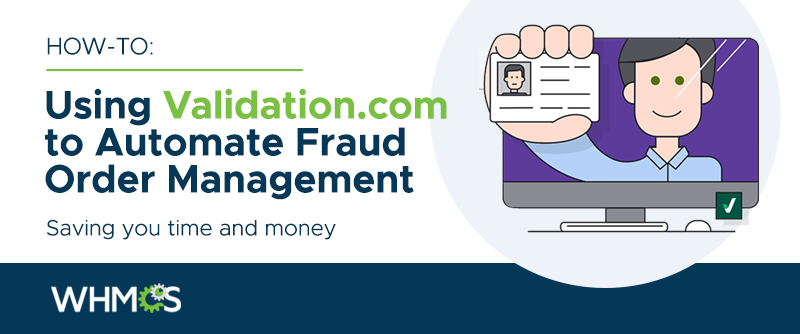 Fraudulent orders can be a big cost for online businesses - both in time as well as money. The Validation.com integration in WHMCS aims to help reduce that burden.

With Validation.com, you can perform automated customer identity verification when customers fail a fraud check, helping you and your team to make more informed decisions about whether to accept high risk orders.


How it works?
When enabled in WHMCS, customers will be automatically prompted to securely submit proof of their identity using the Validation.com service any time an order fails an automated fraud check based on your settings.
Automated fraud checks are supported via both Fraudlabs Pro and MaxMind. With both of these services, you can define what determines a high risk order for your business. And when an order qualifies, you can then have Validation.com collect a selfie and optionally other documents to help you verify the legitimacy of an order.
Here's how the process looks for an end user:
Step 1: The user is informed that their order has failed the automated fraud checks and additional verification is required
Step 2: The Validation.com process launches in a modal popup and guides the user through uploading the required images or documents (as defined by you)
Step 3: A selfie request allows the user to upload a real-time picture of themselves using their webcam to be matched against provided photo ID
When reviewing an order within WHMCS, the Validation.com status for the user is displayed in real-time, along with quick and easy access to review any provided verification documents at Validation.com directly from the order management interface giving you and your team everything you need to make an informed decision about how to process the order.
On-demand Verification
In addition to automated validation performed when fraud checks fail, you can also use the Validation.com integration within WHMCS to validate users on-demand. This can be especially useful when users are requesting for sensitive or critical account related actions as part of support interactions, or when access to an account has been lost and a user is asking for help regaining access.
To initiate an on-demand user verification, you can simply navigate to the users profile within the WHMCS admin area where you can review the ID Verification Status for a given user at any time, as well as initiate a request for verification to be performed by the user. Requests for verification are notified via email as well as via a banner notice displayed when logged into the client area as can be seen in the screenshots above.
Want to learn more about how Validation.com can benefit you?
Read the Whitepaper here:
https://validation.com/Validation_Whitepaper.pdf
Pricing
Exclusive special pricing is available for WHMCS users:
WHMCS Starter Plan - Just $5 per month for up to 5 validation requests
Standard Starter Plan - $19 per month for up to 20 validation requests
Business Plan - $99 per month for up to 200 validation requests (free for WHMCS Business 10k license holders and higher)
Each validation request allows for one user to be verified, and a user only needs to perform verification once so the WHMCS Starter Plan would allow for validating 5 unique users per month.
Try Validation.com for FREE
Now is the perfect time to sign up and try the Validation.com service.
Sign up before 31st December 2021 and receive your first 2 months free on all new Validation.com accounts created via WHMCS.
Ready to Get Started?
Simply login to your WHMCS installation and navigate to
Configuration > System Settings > Fraud Protection
and click the
Activate
button under the Validation.com integration to activate your free trial.
Validation.com integration is available in WHMCS 8.2 and later.
If you have any questions about this integration, we invite you to ask them in the comments area below. Thanks for reading!