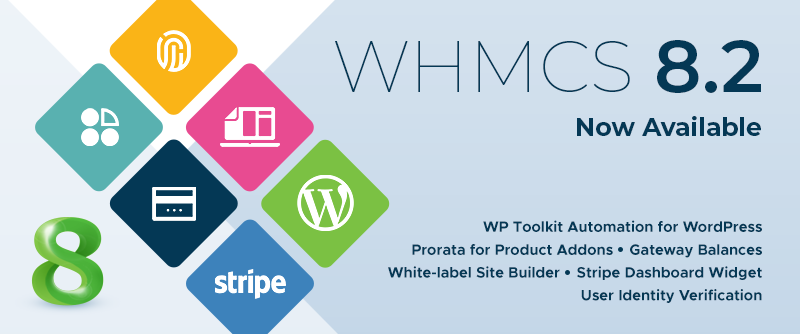 We are pleased to announce the release of WHMCS 8.2 to General Availability.

This marks the end of pre-production testing, and WHMCS 8.2 is now the recommended version for all new installations and updates.

WHMCS 8.2 includes WordPress Toolkit Automation for cPanel and Plesk and a new Unbranded Site Builder experience, powered by Web.com, that allows you to offer a site builder under a freemium model for all hosting signups, greatly reducing the barrier to entry for those new to websites and web hosting.


What's new in WHMCS 8.2
WP Toolkit Automation - Enabling you to offer WP Toolkit to your customers with fully automated provisioning for cPanel & Plesk.
White-label Site Builder from Web.com - An easy to use and powerful site builder with an unlimited free trial enabling you to bundle it with all your hosting packages.
User Identity Verification - Helping you to verify your customers and handle high-risk orders more efficiently.
Prorata for Product Addons - Enabling you to offer add-ons with billing that is always synchronised to the parent products and services.
Gateway Balances - View your payment gateway balances without ever leaving WHMCS.
Transaction Insights - See detailed transaction information for transactions.
Stripe Dashboard Widget - Monitor your Stripe Balance quickly and conveniently from WHMCS.
For more information about all of the new features in WHMCS 8.2, visit the
What's New in WHMCS 8.2 Microsite
Getting the Update
Automatic Update
You can update to the latest version of WHMCS using the Automatic Updater. Simply navigate to
Utilities > Update WHMCS
to begin the update process.
As always, a download is also being made available for those who wish to install or upgrade manually. You can download WHMCS 8.2
from our downloads page
.
Thank you for continuing to support and use WHMCS and we hope you enjoy the latest version!