One of the big advantages of using the WHMCS built-in help desk tool to service your customers support needs is the quick and easy access you and your team get to your customers services.

As part of the ticket submission flow within the client area, customers are presented with a list of their products and services which they can select from when submitting a ticket, allowing them to let you know which service they are contacting you about.

Your staff then get direct access to key product details, and shortcuts to perform actions such as provisioning commands, login and more.

In WHMCS 7.10, we added some additional functionality to this feature to provide greater flexibility and control for admin users.


#1: Admins can set a related service when opening a ticket
When opening a ticket on behalf of a customer from within the WHMCS admin area, admin users can now choose a related service from a list of the customers products and services that are automatically fetched and displayed: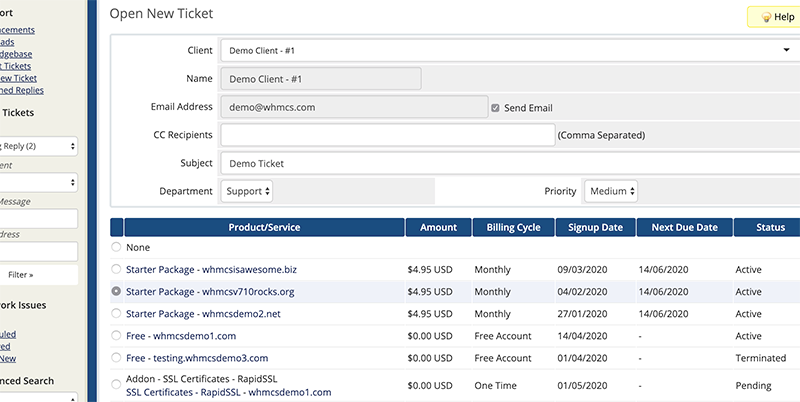 The selected service will be displayed within the admin area ticket view in exactly the same way as with a customer submitted ticket.
#2: Admins can now modify the related service
For existing tickets, admin users can now make updates to the related service. This can be used to correct a mis-association, or add an associated service when one is not set originally at the time of ticket opening.
These are just two of the many new features available in WHMCS 7.10. Many of the features in WHMCS 7.10 are the direct result of feature requests with
over 350 votes collectively
. Thanks for your feedback and please keep it coming!
To learn more about WHMCS 7.10 and what else is new in this version, visit
https://www.whmcs.com/whats-new
for all the details.
Thanks for reading!