Customer service made simple
The WHMCS built-in ticket system and associated support tools offer a complete and integrated solution for tracking, prioritizing and solving customer support enquiries.
The WHMCS Ticket System puts all your customer support interactions in one place, and combined with quick and convenient access to customer profiles and service information, enables seamless, personal and efficient customer service, which means more productive support team staff, and more statisfied customers.
Unlike many third party help desk softwares, WHMCS gives you and your team a complete picture of your customer's account. From a ticket within WHMCS, your team has instant access to customer profiles, service and billing history, and will be able to know every interaction a customer has had with your business. With WHMCS all the information your team needs to provide a personal and quality customer experience is right at their fingertips.
WHMCS' help desk software comes with powerful out-of-the-box functionality that makes it easy to provide great customer support to your customers. Here's just some of those many features:
Centralised Inbox
With the WHMCS help desk, your team has a centralised place to track all customer conversions and support enquiries. With email piping and support for departments, tags and assignments, your customer service team can stay on top of open issues and deliver great customer service.
Automated Knowledgebase Suggestions
Help customers get the answers they need quicker with the built-in WHMCS knowledgebase. Customers will automatically be suggested knowledgebase articles that might be relevant to their question as they type their support ticket submission.
Direct Access to Services
From the WHMCS client area, customers can choose from any of their active services when opening a support ticket. This gives your team instant and direct access to the service that the customer is requesting help with for faster more efficient support.
Custom Fields
Gather all the relevant details you need from your customers through additional custom fields that allow you to customise the support ticket submission workflow on a per department basis. Field types can be made visible to both your team and customers
Ticket Tags
Assign tags to individual support tickets to help track, prioritise and manage ongoing support cases and patterns. Filter the ticket list by tags to easily return to topics.
Escalation Rules
Stay on target with your SLAs with automated actions that are performed when certain events or timed operations occur. For example escalate tickets that have been sitting for too long without a reply.
Inline Ticket Notes
Amazing customer service needs effortless collaboration. With the WHMCS help desk, easily add inline notes and tag and notify other team members with @mentions.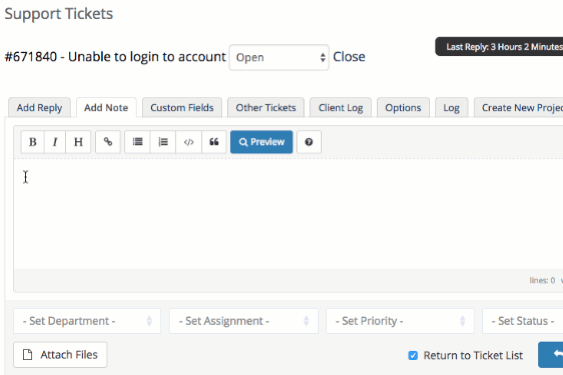 Custom Ticket Statuses
Create custom statuses to accommodate your own custom workflows and procedures for dealing with incoming customer support enquiries.
Spam Control
Setup blacklisted words, phrases and email addresses to prevent spam ticket submissions from ever reaching your ticket queue.
Predefined Replies
Save time and send predefined, personal replies to common questions in seconds.
Ticket Collision Detection
Automatic change alerts monitor for and alert you when changes are made to any one of a number of ticket related attributes allowing you to make better and more informed decisions before performing actions on a ticket.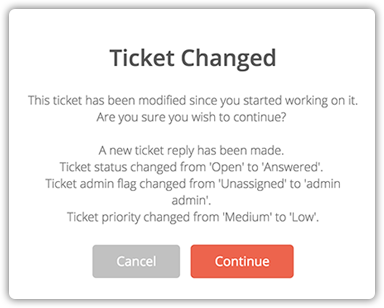 Measure Customer Service Performance
Listen to your customers and measure satisfaction for every support interaction with automated feedback requests and ratings. Dashboards and reports allow you and your team to monitor performance at a glance.
APIs and Extensibility
Build custom ticket submission forms and workflows using the API, integrate with other services, and customise both the customer and staff user portals with templated views that are fully customisable.