Get notified in real time by events that matter to you with the Slack Integration in WHMCS.

First introduced in 7.4, this feature allows you to receive notifications in Slack whenever events occur in WHMCS. Whether it's a new ticket or a new order, a cancellation or a failed fraud check - with this integration you and your team will always be kept in the loop.


What is Slack?
Slack is a powerful messaging app that enables teams to collaborate in real time. Slack integrates with many business systems, data, and applications making Slack a powerful collaboration hub that connects your whole organisation.
Below are some of its powerful functionalities :
Channels - create channels to organise conversations, tools and files per departments, projects or even office locations.
File sharing - quickly share documents with the built-in drag and drop tool
Search - with it's powerful search tool, you can refer back to past conversations and even find keywords within attached documents.
Notifications - choose to receive notifications on your desktop, mobile device, or by email. Notifications can even be customised by channel, so you can prioritise where your attention goes.
Slack Integration with WHMCS
With our slack integration, you can make Slack even more powerful by setting up event-driven notification rules for events that matter to you in WHMCS.
Here are just a few examples of what you can do:
Notify my Support channel when a new ticket is opened in the Support department with a High priority
Notify my Enterprise Support channel when a new ticket is opened or replied to by a customer belonging to the Enterprise Customers client group
Notify my Emergency channel when a new ticket is opened containing the words "Emergency" in the subject
Notify my Sales channel when a new order is placed with a value over $25
Notify my Billing channel when an invoice is paid by a customer belonging to the High Value client group
Notify my Customer Service channel when an order is placed for the product Business Hosting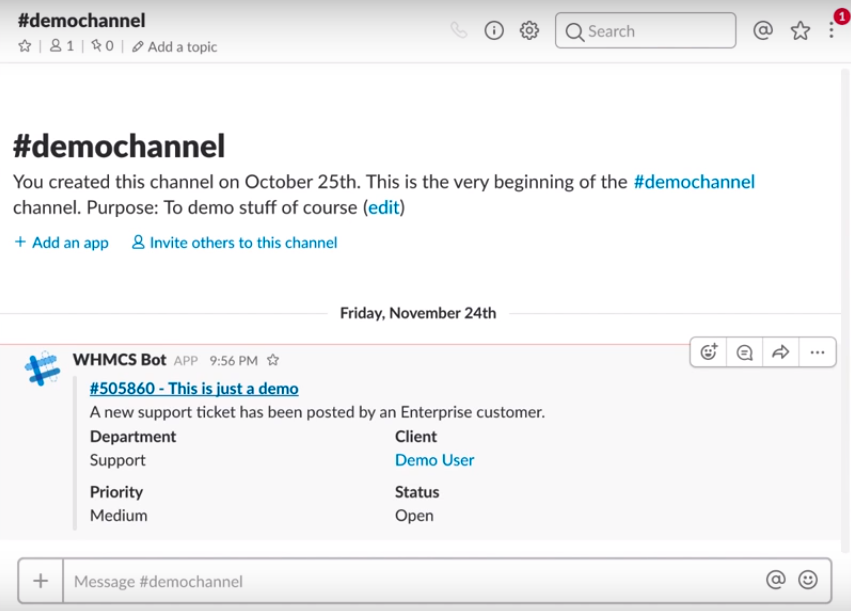 To access this functionality, simply navigate to Setup > Notifications > Configure Slack to get started.
Try Slack now
and leverage its power to scale team communications. It's free for a small team!