WHMCS 7.5 welcomes our newest partner
SiteLock
, now available via MarketConnect.
SiteLock is a cloud-based security service that scans websites for malware and vulnerabilities.
In addition to automated scanning and alerting to common threats such as malicious code, cross-site scripting and SQL injection vulnerabilities, SiteLock offers additional tools to help site owners including reputation and blacklist monitoring, WordPress update alerts, SSL Verification and more.
The Plans
The SiteLock service has 5 levels of offering ranging from SiteLock Lite to SiteLock Emergency Response:
SiteLock Lite
A free service with no time limit that allows users to try SiteLock free of charge with limited scanning. You have the option to include this by default with all new shared hosting purchases.
SiteLock Find, Fix & Defend
The 3 core SiteLock subscription offerings - providing increasing levels of service, automation, acceleration and protection. See the below feature plan matrix for full details.
SiteLock Emergency Response
A one-time service for when a website has been attacked to recover the site as quickly as possible. Includes priority treatment, real-time updates, assistance from a real live person and 7 day aftercare support.
All plans also come with the SiteLock Trust Seal for boosting visitor confidence.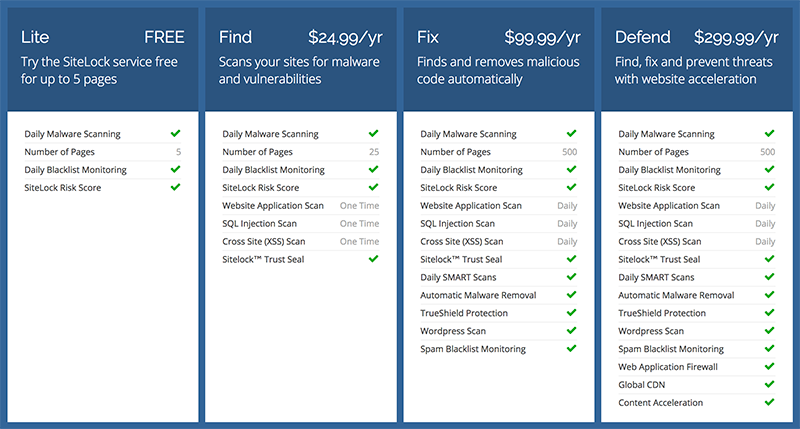 Getting Started
Getting started selling SiteLock is quick and easy. Simply follow the steps below.
1. Begin by logging into your WHMCS admin area and navigate to
Setup > MarketConnect
(Note you must be running at least WHMCS 7.5)
2. If you aren't already signed in, sign in to your Marketplace account. If you don't yet have one, registering is fast and free.
3. Once you're signed in, click the
Start Selling
button under the SiteLock heading
4. A popup will open with the setup information, click the
Activate Now
button to perform the one-click automated setup
And that's all it takes. You're now selling SiteLock. As with all MarketConnect services, WHMCS automatically sets up products and plans for you with the default recommended retail pricing and activates the included SiteLock landing page that you can use to promote the SiteLock service to your customers.
Simply visit your client area and navigate to
Store > Website Security
to view the landing page.
To learn more, visit
our knowledgebase
or
getting started guide
And if you have any questions, you can
contact our MarketConnect team here
.