In WHMCS 7.5, you can now configure grace and redemption periods along with associated fees to be automatically applied to domains that expire allowing your customers to automatically renew and extend their domains for longer.
With over 200 votes, this has been a much requested feature and we're pleased to be able to deliver it in WHMCS 7.5.
Domain Lifecycle
To understand more about how it works, here's a quick recap of the typical lifecycle of a gTLD domain name: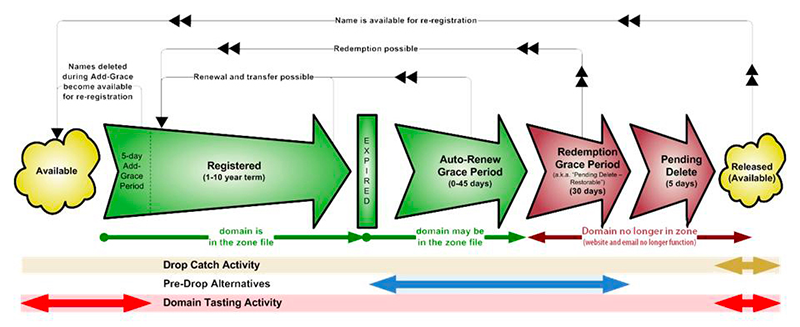 When a domain expires, most of the time it enters what is known as a Grace Period. The Grace Period typically lasts between 0 and 45 days and often does not have any additional costs associated with it allowing a domain name to still be renewed at the regular rate.
When the grace period elapses, most domains then enter a final status of Redemption. Redemption is the last chance to renew a domain before it becomes available for registration again and often coincides with registries putting the domain up for auction. Domains can still be renewed while in the redemption status (providing it hasn't been auctioned off) by paying a redemption fee plus the regular renewal cost for the domain.
How it works
With WHMCS 7.5, you can now define grace and redemption rules on a per extension basis. For each you can configure both the length of time the domain spends in that status, and an optional associated fee you wish to be applied.
To help, we've worked with the leading and most widely used domain registrars to compile a list of the grace and redemption periods for over 800 of the most popular TLDs and extensions. These values will be automatically suggested to you when setting up or configuring a TLD.
In the case of grace periods, WHMCS will automatically apply the default Grace Period for a TLD/extension when available. This allows customers to renew a domain past the expiry date for the given period of time. No additional fees are applied to the renewal of domains in the Grace Period by default as is in keeping with the behaviour of most Registrar's and Registries, however, if you wish to apply additional fees, you can do so.
Unlike with the Grace Period, because renewal during the Redemption Grace Period typically incurs additional fees, and those fees vary by registrar, WHMCS will not apply any defaults automatically. WHMCS will show you the suggested Redemption Grace Period, but to enable it, you will need to provide the price for Redemption of that extension.
New and Improved Domain Renewal Management
As part of this work we've also made a number of improvements to the client area user experience relating to domains and their renewal, with a brand new domain renewal user interface that makes it easier than ever for customers to manage and renew their domains, along with new and improved domain expiry email notifications that are clearer, and make it faster and more intuitive for customers to renew their domains.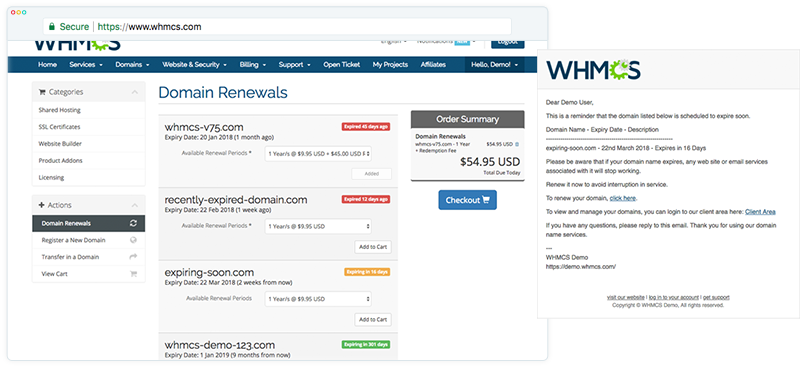 We have also provided a choice of options for how to manage billing, giving you the choice between having existing renewal invoices updated, or existing invoices cancelled and new invoices issued as domains progress through the expiry lifecycle.
This new functionality is designed to save you time, increase domain revenue and help your customers manage their domains more efficiently. If you have any questions, please feel free to ask in the comments below.
To learn more, visit our
Grace and Redemption Period Documentation
.