WHMCS 7.4 introduced improvements to the Ticket Collision Detection engine in the WHMCS support ticket system designed to save you time and improve the efficiency of your support team.
With the new and improved alerting system, you and your team will be better kept informed about the latest changes made to a ticket, allowing you to make faster and more informed decisions before performing actions on a ticket.
The change alerts will monitor for and alert you when changes are made to any one of a number of ticket related attributes, including new replies from both customers and other members of staff, changes of status, ticket assignment, priority or any of the other ticket related settings.
It's easy to get distracted when we are answering tickets, and when we finally do get around to it, unknown to us, another team member may have made changes creating confusion and potentially resulting in conflicting responses to a customer.
One particular example of where this can save you time and optimise your teams efficiency is with the ticket assignment feature. If like us here at WHMCS, your support team workflow involves your team members assigning a ticket to themselves before they begin working it, with the new and improved collision detection in WHMCS 7.4, if between the time one member of your team opens a ticket and clicks the assign to me button, another member of the team has already assigned the ticket to themselves and begun working on it, the latter member to attempt to assign the ticket to themselves will receive a popup alert notifying them that the ticket has been assigned to somebody else and who it has been assigned to. Now you just avoided two members of your team working on the same ticket.
Not only will the new system notify you about changes made to a ticket by other members of your team, but also changes made by customers, so that if a customer follows up and provides additional information while you are viewing and responding to the ticket, you'll have the opportunity to review it before posting your reply, keeping you fully in the loop and helping you to avoid duplicated and conflicting replies.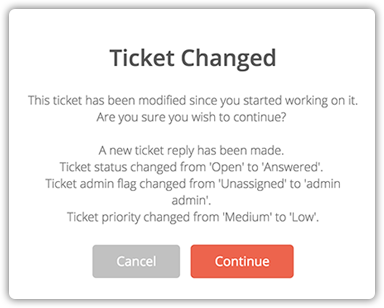 The improved ticket collision detection will notify you via a pop-up window as shown above if any changes have been made to an open ticket allowing you to see details of what has changed and confirm if you wish to continue with your current action, or cancel it. With WHMCS 7.4, you get more detail than previously about exactly what has changed allowing you to make faster and better informed decisions.
This feature will work even if you have a ticket open for days or even weeks at a time, buried in that tab that you forgot to return to, preventing you from responding to out of date information.
Avoid staff overlap, increase efficiency, save time and streamline customer communication with the improved Ticket Collision Detection,
upgrade to 7.4
today to get this new functionality.