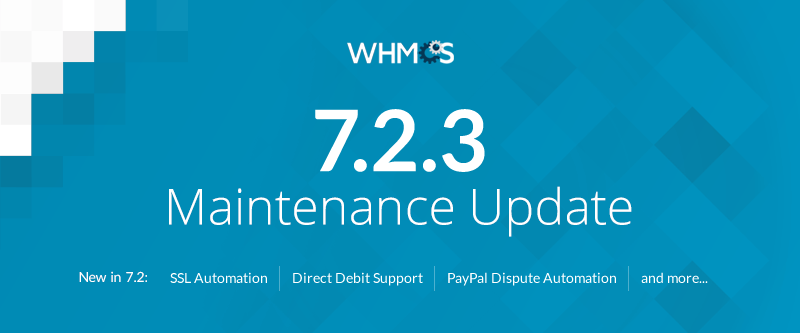 We are pleased to announce the release of WHMCS 7.2.3.
This is a maintenance release for the 7.2 series of WHMCS that includes updates, bug fixes and usability improvements.
WHMCS 7.2 introduced
SSL Certificate Automation
,
Weebly Site Builder integration
as well as Direct Debit support, PayPal Dispute Automation and more.
Watch the video
or
learn more here
.
This latest update also includes V2.0 of the Project Management Addon released last month.
Learn more
.
Get the update
Users of WHMCS v7.0 and later can update automatically. Simply navigate to
Utilities > Update WHMCS
to begin the process.
For users of earlier versions, both a full release and incremental patch set upgrade are being made available. If you are running the immediate previous release 7.2.2, you can use the incremental patch set to upgrade.