Today we're going to be looking at the enhanced Customer Analytics available in WHMCS 6.2 and in particular, a new report designed to give you information and statistics on Customer Retention Time.

What is Customer Retention Time?Customer Retention Time is the length of time a customer remains active with you. The number of days between the day they signup, and the day they leave.

WHMCS 6.2 introduced the storing of cancellation dates for every product, service and domain, along with a new report that calculates and displays the average customer lifetime for each of your products and billing cycles.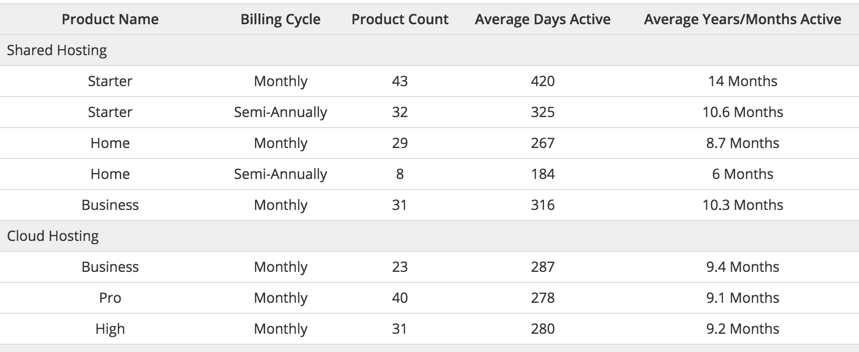 Why is Customer Retention Time a useful statistic?
Knowing how long your customers stay with you is an important analytic for any business. It can help identify issues sooner, allow you to calculate average customer revenue, plan marketing campaigns and more. In short, it's a very useful aid that provides you metrics to help your business succeed.
Let's take the scenario of planning for a marketing campaign. Knowing and understanding your cost per acquisition (CPA) is a key factor to measuring the success of the overall campaign. But perhaps equally as important is knowing how much you stand to make. By better understanding that, you can use it to work out what your cost per acquisition figure needs to be to make a profit. That's where the new analytics in WHMCS 6.2 come in.
A Marketing Scenario
Let's say you charge $10 per month for a shared hosting account and the new analytics tell you the average customer stays on this plan for 9 months. You have a server that costs $200 per month that you host 100 clients on, giving you a $2 per month cost for the resources the customer is using. Factor in any other costs, such as the average cost of support a customer uses and you have the profit for that plan. Let's say for our example the profit is $6 per month, for a period of 9 months, giving us a total profit of $54. This tells us we should be looking to achieve a cost per acquisition of no more than $54 for the campaign to be profitable.
These statistics coupled with the
Link Tracking
feature to track your conversions provide you with a powerful set of tools for running and determining the results of your marketing efforts.
How do I get started?
For all products, services and addons, you'll find a new field labelled Termination Date. This is set automatically whenever products are cancelled, but you can manually adjust it should you require. For domains, the expiry date is used. Worth noting that all products cancelled prior to 6.2 will assume the last next due date as the date of cancellation.
The new report can be found under client reports with the title "Customer Retention Time".
Summary
No one knows your business better than you and with the new Customer Retention data in WHMCS 6.2 you have more information available to analyse patterns in client behaviour and revenue, helping you make better business decisions.
Thank you for reading!