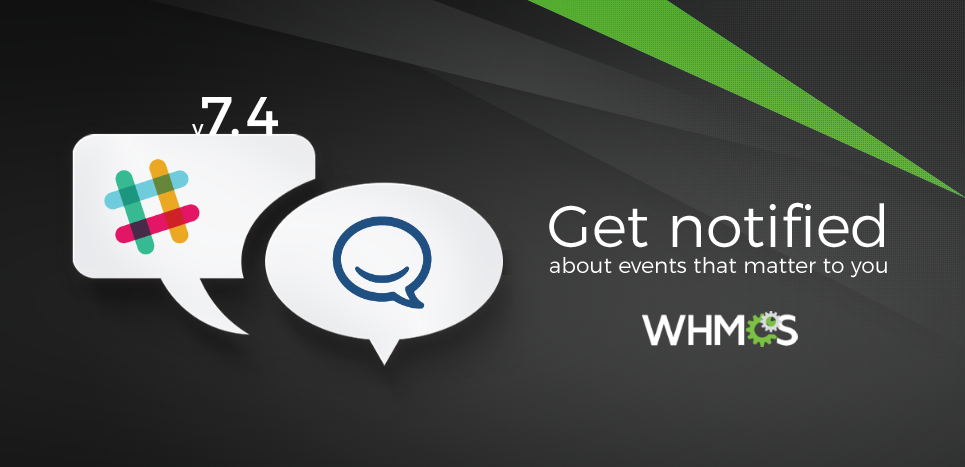 Your favorite team messaging apps are now integrated into WHMCS.
We are excited to welcome HipChat and Slack to the list of integrated apps for WHMCS.
With the new Notifications Center in WHMCS 7.4, you can setup instant real-time notifications to your existing digital workspace about events and actions that matter to you.
Team communication apps are
transforming the way teams work
, replacing email communication and context switching of traditional workflows with a shared conversational environment so teams can stay focused, communicate in real-time and gain visibility into operations and systems without hopping between different softwares.
With WHMCS 7.4, you can create
powerful event driven notification rules
that help keep you and your team in the loop.
There is a wide range of event triggers to choose from, and conditional criteria allow you to dial in the notifications to just the events that
matter to you
.

Here are just a few examples of what you can do.
Notify my Support channel/room when a new ticket is opened in the Support department with a High priority
Notify my Enterprise Support channel/room when a new ticket is opened or replied to by a customer belonging to the Enterprise Customers client group
Notify my Emergency channel/room when a new ticket is opened containing the words "Emergency" in the subject
Notify my Sales channel/room when a new order is placed with a value over $25
Notify my Billing channel/room when an invoice is paid by a customer belonging to the High Value client group
Notify my Customer Service channel/room when an order is placed for the product Business Hosting
Since many of us already have a chat window open in listening mode, these notifications integrate directly into your existing workflows while giving you immediate insights into the things that matter to you.
HipChat and Slack, just like WHMCS, are awesome tools used by tens of thousands of companies. And like all awesome tools, they work better together. We hope you will get a chance to give the new integration a try.
You can learn more about the new Notifications functionality in our
documentation
and upgrade to the
WHMCS 7.4 Release Candidate today
to try it out.